Share this URL: https://archicraft2018workshop4.peatix.com/
Event is FINISHED
ARCHICRAFT 2018 | Your City Sketching Moments | 6 Oct
WHAT IS YOUR CITY SKETCHING MOMENTS?
(Photo credit: Pocholo Issa Estremos)
Your City Sketching Moments encourage participants to be able to capture city scenes through their own perspective, participants will be thought to sketch real city life using pen and watercolor. The simplicity of ink and wash will enable participants to enjoy sketching as it is straight forward. Our friendly instructor, Pocholo Issa Estremos will create an amazing atmosphere to learn and draw, making city sketching workshop more enjoyable and fulfilling. The session will end with a sharing session where the participants displaying their finished products, and feedback will be shared by both participants and the instructor.
INSTRUCTOR
Pocholo Issa Estremos
Pocholo is a Licensed Architect from Cebu Philippines, who worked in Singapore in an International Landscape Architecture, Master Planning & Urban Design Firm as a Landscape Designer/Renderer.
In the attempt to find his style and technique for his drawings, in 2011, Pocholo joined Urban Sketcher Singapore (USKSG), an interest group associated with the global non-profit organization Urban Sketchers that promotes location drawings. Since then, Pocholo became an active sketcher; wherever he goes, he would always have his sketchbook and drawing tools ready in his bag.
Pocholo contributed sketches for the two books published by the USKSG entitled "Urban Sketchers Singapore: Volume One" in Oct 2011 and "Urban Sketchers Singapore: Volume Two" on 16 May 2015 respectively. Aside from this, Pocholo's sketches were also featured in the "Our Neighbourhoods" collection books that were published locally by the Epigram Books. Pocholo also participated in a joint workshop event "We Draw Singapore Together" organised by Temasek Polytechnic and USKSG in May 2017, and SG Heart Map sketchwalks on five Saturdays from Aug to Sep 2017.
WORKSHOP DETAILS
Venue

: Marina Bay ArtScience Museum, Entrance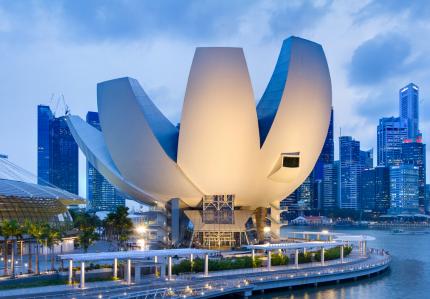 (Image from Flickr)
Meeting Time

: Please meet the workshop leader at 2

:50PM

(10 mins before the start of the workshop) as you will be proceeding on foot, as a group, to the sketching venue.
Attire

: Comfortable clothing and footwear suitable for outdoors. Hat or cap, is recommended.
Equipment

:
1) Umbrella. 2) Sketching materials including pencil, waterproof pen, drawing board, paper, and your preferred colouring materials. 3) If you do not have any drawing materials, you may opt to purchase a sketching set from us for $20. The set includes: a waterproof pen, a drawing board, 2 pieces of watercolour paper, a palette, a water brush set, a water container and selected watercolour paints (to be shared amongst participants)
Sale of tickets will close a day before the scheduled workshop or until tickets are sold out.
WHAT IS ARCHICRAFT?
Archicraft in Archifest 2018 is a series of curated workshops, organized in carefully curated architectural space or buildings, that provides the opportunity for participants to delve into a variety of disciplines in society and their interaction with architecture. These series of workshops are aimed at empowering participants to adopt an active role in becoming 'agents for change' in our living environment.
There is a total of 5 workshops to choose from; from learning how building pollutants affect the environment to learning how to compose a thought-provoking architectural photograph or even to growing your very own personal 'farm'.
Proudly curated by the architecture student society of

Singapore University of Technology and Design

(

SUTD

) Architecture Student Society (

SUTDIO

).
Disclaimer for Archicraft
Indemnity

: By buying and participating in the Archicraft workshops, you are deemed to fully accepted all SIA/Archifest/Archicraft's terms and conditions.
You agree to indemnify, defend and hold SIA and its affiliates, and their respective staffs, owners, agents, information providers and licensors (collectively, the "Indemnified Parties") harmless from and against any and all claims, liability, losses, costs and expenses (including attorneys' fees) incurred by any Indemnified Party in connection with any breach by you of these Terms and Conditions and Privacy Policy.
Responsibility

: SIA also reserves the right to terminate workshops for any participants at any time for good cause. SIA cannot be held responsible for any mistake that might occur in typography or printing.
Transportation

: Chartered transportation is not provided for any of the workshops.
Etiquette

: Please maintain social etiquette at all times during the workshops and to treat fellow participants, including any instructor, guide, Archifest volunteer with courtesy and respect. SIA reserves the right to request a participant/ participants to leave, if he/ she/ their behaviour is seen to be unruly and disrupts the workshops.
Smoking/Liquor

: Smoking and consumption of liquor are not allowed at the venue of Archicraft workshops.
Refund policy

: There is no refund for no-shows.
Accident or Loss

: Participants are to take care of their personal belongings at all times. SIA will not be liable for any loss, damage, delay, inconvenience, or direct or consequential loss, however caused.
Jurisdiction

: These conditions shall in all aspects, be governed by the law of Singapore.
read more
Sat

Oct 6, 2018
3:00 PM
-
6:00 PM
SGT
Add to Calendar
Venue
Tickets

Standard (bring-your-own-sketch-tools)

SOLD OUT

$35.00

Standard (includes sketch tools kit)

SOLD OUT

$55.00
Venue Address
Organizer
Want to find more groups and events like this?